Wuyi Mountain, located at the junction of Jiangxi Province and Fujian Province, is a famous scenic spot and summer resort in China with a total area of 999.75 square kilometers. As a typical Danxia landform, it is one of the first batch of national key scenic spots. Wuyi Mountain is a world cultural and natural heritage, a World Biosphere Reserve, a national key cultural relic protection unit (Wuyi Mountain cliff tomb group), a national key scenic spot, a national AAAAA tourist attraction, a National Nature Reserve, a National Water Conservancy Scenic Spot, a national eco-tourism demonstration area, and a national civilized scenic spot demonstration site. In December 1999, according to the world heritage selection criteria (III) (VI) (VII) (x), Wuyi Mountain was listed in the UNESCO World Heritage List (No. 911) as one of the world heritage sites in China.

Wuyi University (WYU), located in Wuyi Mountain, an international tourism city which is the world natural and cultural heritage site, is a public university approved by the Ministry of Education of the People's republic of China. WYU was founded in 1958, first as a teachers' college. It is also the successor of the Neo-Confucianism institute—Wuyi Academy, which was set up 800 years ago by Zhuxi , who was a well-known philosopher in Song Dynasty. Covering an area of 2 billion square meters, WYU enjoys a beautiful scenery. It has 433.1 thousand square meters building area, 118 million Yuan equipment, 1.2066 million copies of book collections, 780.4 thousand pieces of E-books, 14,000 full-time students and more than 1000 teaching staff.
Being one of the Chinese Government Scholarship students receiving institutions, WYU offers the following three kinds of scholarship to international students: the Chinese government scholarship, the Fujian provincial government scholarship and Wuyi University scholarship. Besides, WYU is the Fujian provincial overseas Chinese education base and the promotion center for Chinese traditional culture experiencing. WYU recruits academic and non-academic overseas students. There are overseas students coming from the United States, Russia, Ukraine, Vietnam, Zambia, Pakistan, Ghana, Kenya and Bangladesh. WYU has the following 15 schools: School of Tea & Food Science, School of Ecology Resources & Engineering, School of Arts, School of Tourism, School of Humanity & Teacher Education, School of Mechanical & Electrical, School of Architecture & Engineer, School of Math & Computer Science, School of Business, School of Media & Animation, School of Strait Chenggong, School of Modern Information Services, School of Continuing Education, School of Ideological and Political Theory Teaching and School of Physical Education. In the schools there are 38 majors on undergraduate level covering economics, education, literature, science, engineering, agriculture, management science and art. At present, there are 14099 full-time students studying in different majors.
Scenic Spot Of Wuyi Mountain
Dawang Peak of Wuyi Mountain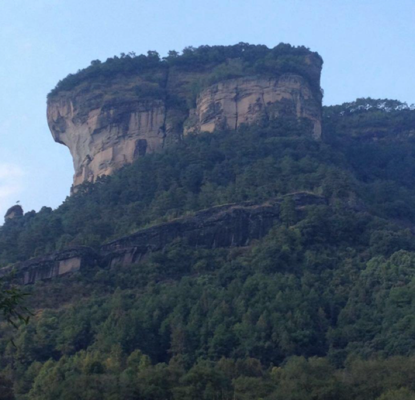 Jiuqu Stream at Wuyi Mountain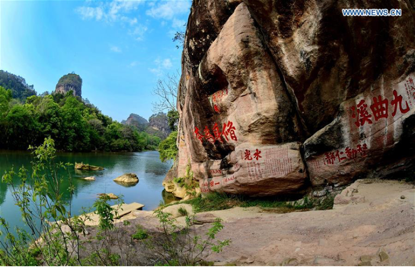 Yu'nyu Peak of Wuyi Mountain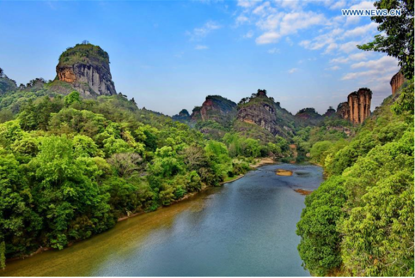 Tianyou Peak of Wuyi Mountain